Business
Gym cleaning : Properly disinfect sports equipment for virus-free surfaces
You can't see them or feel them, but germs can stick to many surfaces. Regular, thorough cleaning and disinfection are important in places where many people use objects together – not only in Corona times. Today we will show you here in the blog how thorough surface cleaning on sports equipment works – for the health of your athletes and employees.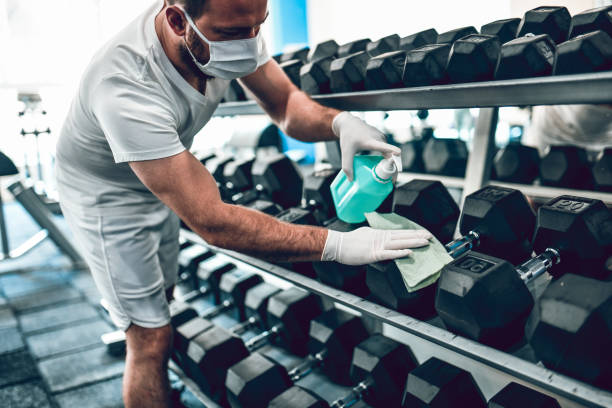 The most important hygiene measures for sports equipment and hands
Good sports facilities attach great importance to hygiene in training rooms, sanitary areas, and changing rooms. Daily floor mopping, hourly toilet cleaning, and regular disinfecting of the showers have certainly been standard in your facility for some time. But now everything is different!
Additional disinfectants must be available for your customers at the entrance area and in the immediate vicinity of the devices. And Besides hand hygiene, the correct disinfection of sports equipment also plays an important role. It's good if you instruct the athletes again on how to do it best.
New standards in Gym cleaning
It is now clear that the novel coronavirus can remain active on surfaces for a certain period. If we touch contaminated objects, the viruses move on. And if we touch our face with contaminated hands, we can quickly become infected. Thorough cleaning with sufficient water and a powerful detergent removes many bacteria and viruses, including the coronavirus. But in normal sports, it is not workable to thoroughly clean every dumbbell, every cardio device, and every mat after use.
That's why we recommend: Offering the athletes the opportunity for thorough interim cleaning with disposable towels and disinfectants. And very important: As long as we are on the road, we should not touch our faces with our hands and wash them thoroughly when we get home!
Effective surface disinfection in 5 steps – this is how it works: 
Only use suitable disinfectants to disinfect the surfaces of the sports equipment.

By

the way: Disinfectants that have at least a limited virucidal effect are effective against SARS-CoV-2.

 

Spray the disinfectant generously onto the surface to be disinfected. For sensitive surfaces, spray the agent onto a disposable cloth and wipe over the surface.

Wipe the surface thoroughly with a disposable cloth and immediately dispose of the cloth in the trash can.

Be sure to wait for the exposure time. Depending on the disinfectant, this can be between 30 and 60 seconds. You can find a note on the bottle!

The disinfectant does not provide long-lasting protection. Therefore, renew the disinfection of the surfaces if necessary.
Ventilate properly: This is how you clean the air optimally
Besides surface cleaning, regular airing is also very important! You should completely replace the indoor air at least every 45 minutes. And the only thing that helps here is ventilating or cross-ventilating for about 5 minutes through fully open windows. Ventilating with tilted windows is almost ineffective for complete air exchange.
Take off protective gloves correctly 
We also have important information for your professional gym cleaning staff and employees. Certainly, they are currently cleaning with protective gloves. But you also need to learn how to put on and take off your gloves! Before you put on the gloves, wash, and disinfect your hands.
After the work is done, you then put it down professionally. That means don't touch the outside of the gloves with your hands! But because that happens and the surface of the gloves is porous, we consider the hands contaminated after the gloves are removed. That means: After taking off the gloves, wash, and disinfect your hands thoroughly for 30 seconds.  
 Read Blogs : Cleaning